Abatek solutions for Payment Terminals offers all features in compliance with the latest security standards.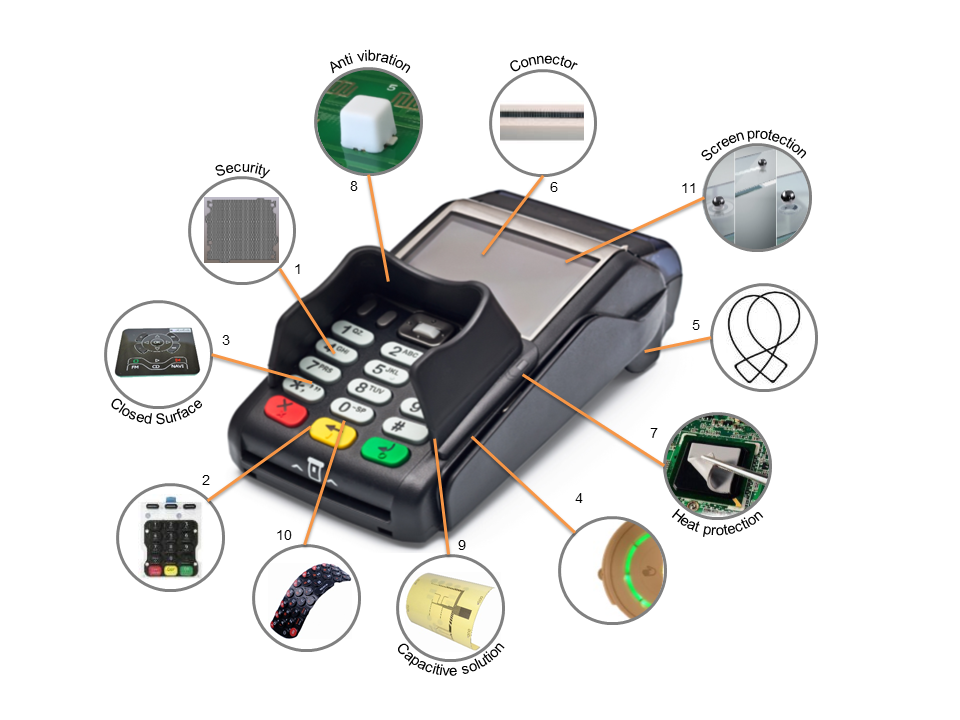 01. No risk with the multiple-layer Security Foil. A fine pitched security foil, with optional capacitive detection and permanent contacts ensure maximum
safety. In house engineering and production ensures full security from the idea until the end usage.
Despite the security foil you get a world class tactile feel.

02. Silicone keypads ensures electrical contact with a clear tactile feeling. Combined with our worldwide leading Sealplast coating by Abatek to protect the
keyboard from abrasion. This technology can be combined with light guide foil / film or plastic caps.
Alternative to this see also Polyform and Softplast.

03. Polyform is the revolutionary HMI solution with a self-healing, easy to clean, and closed 3D surface. The prefect solution when security and cleanness is
of mandatory importance.

04. The Light Guide film and foil is the perfect solution for a back light technology with less LEDS. It even allows for punctual light effects like a logo on an
otherwise even surface.

05. The RubberLine offers a wide range of custom molded components with a wide range of solutions made of rubber for any gasket or case protection.

06. The durable high temperature resistant Connector bridges PCB to various LCD and other applications.

07. Thermal Pad helps protecting the processors from overheating.

08. Placeable with existing machinery the Damper-Spacer opens new exciting approaches at low cost. It combines the function of a spacer and anti-vibration
cushion plus optional as connector of your capacitive solution to bridge the airgap.

09. Capacitive solutions can be assembled or co-molded to the A surface in order to establish selective capacitive function or to bridge the air gap.

10. Softplast A flexible and highly customizable surface that is harder than silicone but softer than plastic. This results in a sensational tactile touch
feeling – soft but still stable like plastic.


11. Pantaglas substitutes todays standards and opens new horizons. The display cover for capacitive touch and force sensing applications with a self-healing,
transparent and easy to clean surface for your safety.