The Abatek In House tool shop and production ensures the quality and safety required for automotive industries.
Ongoing innovation secures long-time partnership.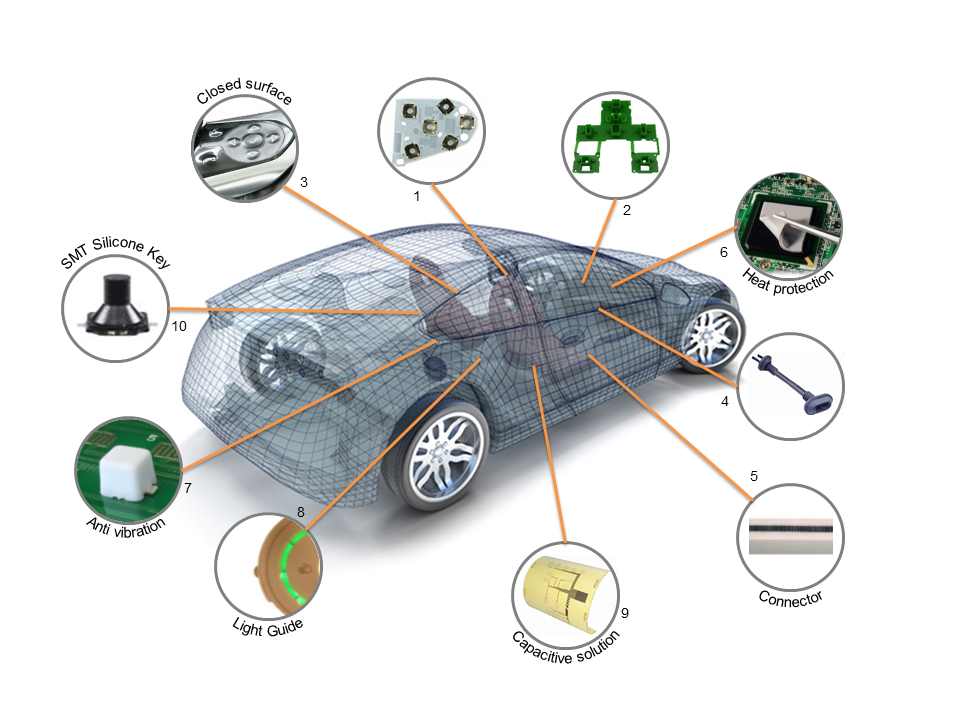 01. Clickpads, the short stroke solution where the feel and the sound is adjustable to brand the switch.
- Starting from steering wheel switches over window lifters to the switches in the dashboard

02. Silicone Keypads with long stroke solutions for single and double stroke applications. The Abatek SC pill technology ensures the best electronic
contact security.
- Applicable for any automotive application

03. Polyform Enjoy full design freedom with its revolutionary self-healing and closed surface which take control units to a superior level.
- Starting from a keyfob over a complete dashboard to a decorative trim strip

04. RubberLine offers a wide range of rubber products for custom molded components made out of wide range of elastomer.
- Starting from a gasket over a tube until a grommet. Anything is possible

05. The durable high temperature resistant Connector bridges PCB to various LCD and other applications.
- Applicable for any display or capacitive assembly

06. Thermal Pad protects the processor from overheating.
- Starting from any processor up to a battery cover / gasket

07. Placeable with existing machinery the Damper-Spacer opens new exciting approaches at low cost. It combines the function of a space and anti-vibration
cushion plus optional as connector for your capacitive solution to bridge the air gap.
- Applicable for any PCB application

08. The Light Guide film and foil are the perfect solution to have a unique and homogeneous back light with less LEDS.
- Starting from a back lighted switch up to a lighted logo in the headrest

09. Capacitive solutions can be assembled or co-molded to the A surface in order to establish selective capacitive function or to bridge the air gap.
- Starting from a capacitive foil integrated in the dashboard over a conductive elastomer in your assembly to bridge the air gap

10. SMT Silicone Key is the machine placeable and Pd-free reflow soldering of a customized long stroke silicone key. It is also perfect for trials in pilot tool
stage because there is no tooling cost and very short lead time.
- Starting from the remote control up to a start/stop button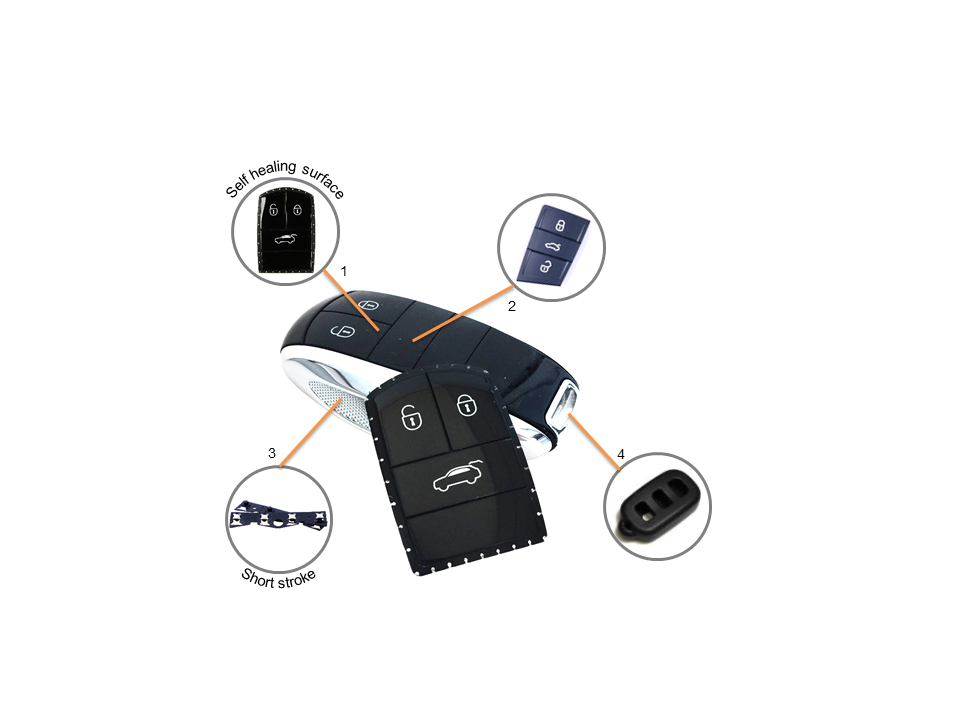 1. Polyform is the revolutionary HMI solution with a self-healing, easy to clean and 3D closed surface which brings control units to a superior level.

2. Clickpads, the short stroke solution with optional back lighting and a unique tactile feel plus customized sound.

3. The Silicone Cover combined with our worldwide leading coating Sealplast for the best protection of an elegant and customized cover

4. Full range of standard Plastics including double shot production is possible. This can be combined with various choices of secondary processes.